Device Specs & Downloads
Pick your device from the list below to view device specifications, access user guides and download software updates.
CradlePoint COR IBR650
The CradlePoint COR Series is built for your M2M network. It's an affordable highly-featured, compact router designed for critical business and enterprise applications that require 24x7 connectivity.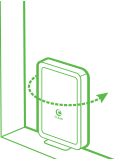 PRO-TIP
Rotating your CLEAR Hub?
Sometimes just rotating your CLEAR Hub will improve your signal strength.