Device Specs & Downloads
Pick your device from the list below to view device specifications, access user guides and download software updates.

CradlePoint MC100W
In combination with supported CradlePoint routers and adapters, the MC100W Business Grade Modem provides businesses with a fully-integrated solution for 4G/WiMAX internet access.
Supporting both primary connect and network failover applications, the MC100W features an integrate WiMAX module and high-gain external antennas to enhance in-building signal coverage and improve performance in fringe locations and areas of poor coverage.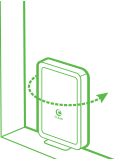 PRO-TIP
Rotating your CLEAR Hub?
Sometimes just rotating your CLEAR Hub will improve your signal strength.