Device Specs & Downloads
Pick your device from the list below to view device specifications, access user guides and download software updates.
Dell E6400
SKU/Part Number
NA
Description
Latitude E6400
Weight
Starting weight of 4.3 lbs. Weights will vary depending on configurations and manufacturing variability
Dimensions
1-1.2'' x 13.1'' x 9.37''
Processor
Intel® Core™2 Duo Processor
Memory

Dual Channel DDR2 Memory
Available DIMM Slots: Two Memory slots offering up to 8GB
Memory Bandwidth: 800MHz

Graphics

NVIDIA® Quadro® NVS 160M 256MB DDR2
Intel® Graphics Media Accelerator 4500MHD

Display

14.1'' Premium, UltraSharpTM WXGA+ (1440Ч900) LED Display
14.1'' Premium Electronic Privacy WXGA (1280Ч800) LED Display
114.1'' Premium WXGA (1280Ч800) Display

Sound, Camera, Recording
2 speakers, digital microphone (optional), Integrated Webcam (optional)
Hard Drive

7200 RPM Free Fall Sensor Hard Drive up to 250GB
7200 RPM Encrypted Hard Drive with Free Fall Sensor up to 160GB
5400 RPM Encrypted Hard Drive up to 120GB
5400 RPM up to 250GB
Solid State Hard Drive up to 128GB

Drives
DVD-ROM, CD-RW/DVD, DVD+/-RW
I/O Wired
10/100/1000 Gigabit Ethernet network interface adapter, 56K v924 Internal Modem (Optional)
I/O Wireless

Dell Wireless 1397 (802.11g)
Dell Wireless 1510 (802.11a/g/n 2Ч2)
Intel® WiFi Link 5100 (802.11a/g/n - 1x2) with WiMAX
Intel® WiFi Link 5300 (802.11a/g/n - 3x3) with WiMAX)
Dell Wireless 5720 (EvDO & GPS) Mobile Broadband Mini Card
Dell Wireless 5530 (Tri-band HSDPA 7.2/HSUPA 2.0 & GPS) Mini-Card
Dell Wireless 3706 Bluetooth® 2.1 (optional)
Dell Wireless 4106 Bluetooth® 2.1 with UWB (optional)

External Ports

Slots:

5-in-1 card reader; PCMCIA or ExpressCard 54

Docking:

E-Port, E-Port Plus, E-Legacy Extender, E-Flat Panel Stand, E-Monitor Stand, E-View Laptop Stand, E-Media Bay

Modular Options:

E-Family modular media bay: 8X DVD-ROM, 24X CDRW/DVD, 8X DVD+/-RW, second Hard Drive or Travel Lite Module

Ports:

IEEE – 1394, docking connector, USB 2.0 (x4), VGA, Display Port, RJ-11 (optional), RJ-45, eSATA, USB PowerShare, headphone/speaker out, mic
Power Supply Output
90W
Battery Life
Not Published
Battery

4-cell
6-cell or 9-cell extended life primary batteries 84Whr high capacity battery slice (optional)

Supported Operating System
Windows® XP, Windows® Vista, Windows® 7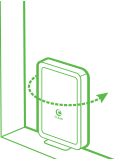 PRO-TIP
Rotating your CLEAR Hub?
Sometimes just rotating your CLEAR Hub will improve your signal strength.