Device Specs & Downloads
Pick your device from the list below to view device specifications, access user guides and download software updates.
How do I know if my operating system is supported by the CLEAR Stick Atlas?
The CLEAR Stick Atlas supports Windows® 7, Windows® Vista, Windows® XP (SP3), Mac® OS 10.5 Leopard, 10.6 Snow Leopard and 10.7 Lion. Versions of Linux, Android™ and Chrome that support Remote Network Driver Interface Specification (RNDIS) or Communication Device Class (CDC) also work with the CLEAR Stick Atlas.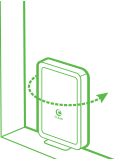 PRO-TIP
Rotating your CLEAR Hub?
Sometimes just rotating your CLEAR Hub will improve your signal strength.