Device Specs & Downloads
Pick your device from the list below to view device specifications, access user guides and download software updates.
iSpot
Feature Improvements

OMA-DM Enhancements to make sure device is a good citizen when initially powered on.
WiFi Performance Enhancement for Apple iDevices.
Added support for additional iDevices from Apple.
During data transfers, WiFi radio is not powered off. WiFi radio is left powered-up during data transfers to enhance data transfer throughput performance.
Security Fixes.

Last Updated
January 05, 2011 - iSpot ONLY! - (not for use with the Spot)
Firmware Updates
Last updated January 05, 2011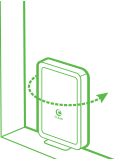 PRO-TIP
Rotating your CLEAR Hub?
Sometimes just rotating your CLEAR Hub will improve your signal strength.