Device Specs & Downloads
Pick your device from the list below to view device specifications, access user guides and download software updates.
Rover Puck by CLEAR
Easy to Use

Turn it on and go
Share 4G take-it-with-you internet with up to eight wi-fi-enabled devices at the same time
Works in every city with CLEAR

Compact and Portable

Runs on a rechargeable battery that provides 4 hours of continuous use
Works while recharging through the included wall charger, Car Charger or your computer USB port

Secure and Reliable

Prevents unauthorized use of your connection
Supports 802.11b/g/n wi-fi-enabled devices
Built for reliability with minimal set up and no maintenance

Works with any wi-fi enabled device

Smart phones and handheld gaming devices
Laptops, netbooks & pocket computers
Home computers, printers, game consoles

Last Updates
May 10, 2012
Dimensions
4.25" .5" x .71" thick
Weight
25.6 oz
Battery Information
3.7V Li-Ion
Usage Time
Up to 4 hours of continuous use
Compatibility
Works with any WiFi enabled device
Range
150 ft.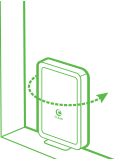 PRO-TIP
Rotating your CLEAR Hub?
Sometimes just rotating your CLEAR Hub will improve your signal strength.