Device Specs & Downloads
Pick your device from the list below to view device specifications, access user guides and download software updates.
4G+ Personal Hotspot
Feature Improvements

Fixed the problem where the WiFi connection is dropped occasionally. Customer reports of unable to connect to WiFi are addressed by this fix.
Power Management enhancements.
Web UI/LCD UI changes.
Adds an option to disable WiFi power save feature.
4G re-scan period option.
Work Mode value indicator.
Adds a battery over temperature UI indicator (charging stops when the temperature exceeds a threshold). An on-screen indication to the customer.

Last Updated
January 05, 2011
Firmware Updates
Last updated July 27, 2011
Dimensions
3.15" x 3.15" x .59"
Battery Information
1830 mAh
Usage Time
up to 3 hours continuous use time
Compatibility
Works with any WiFi enabled device
Range
150 ft.
Weight
4.5 oz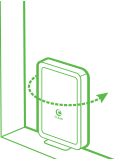 PRO-TIP
Rotating your CLEAR Hub?
Sometimes just rotating your CLEAR Hub will improve your signal strength.