Device Specs & Downloads
Pick your device from the list below to view device specifications, access user guides and download software updates.
CLEAR Spot® 4G
Feature Improvements

OMA-DM Enhancements to make sure device is a good citizen when initially powered on.
WiFi Performance Enhancement for Apple iDevices.

Last Updated
January 05, 2011
Firmware Updates
Last updated January 05, 2011
Dimensions
4.33" x 2.44" x .71" Weight: 4.58 oz
Battery Information
1830 mAh
Usage Time
up to 4 hours continuous use time
Compatibility
Works with any WiFi enabled device
Range
150 ft.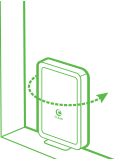 PRO-TIP
Rotating your CLEAR Hub?
Sometimes just rotating your CLEAR Hub will improve your signal strength.