Device Specs & Downloads
Pick your device from the list below to view device specifications, access user guides and download software updates.

CLEAR Spot® Voyager
Features

Compact and portable: 2.6'' square and only 2.1 ounces
up to 6 hours of continuous use
Supports 802.11 b/g standards for broad wi-fi enabled device compatibility

Last Updated
July 23, 2012
SKU/Part Number
IFM-910CW
Description
CLEAR Spot Voyager®
Standards
802.11 b/g wi-fi-enabled devices
Frequency
WiMAX: 2500 MHz
Dimensions
2.6"(D) x 2.6"(W) x 0.5"(H)
Weight
2.1 oz
Wi-Fi Security
WEP, WPA, and WPA2
Battery Information
1500 mAh
Usage Time
up to 6 hours continuous use time
Compatibility
Supported Wi-Fi enabled devices: iPad®, iPhone®, iPod Touch®, Laptop, Tablets, Smartphones, Portable Gaming Devices, Cameras
Range
100 ft.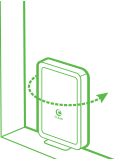 PRO-TIP
Rotating your CLEAR Hub?
Sometimes just rotating your CLEAR Hub will improve your signal strength.