Device Specs & Downloads
Pick your device from the list below to view device specifications, access user guides and download software updates.

CLEAR Hub Express
SKU/Part Number
GTK-RSU131
Description
CLEAR Hub Express
Standards
802.11 b/g/n wi-fi-enabled devices
Frequency
WiMAX: 2500 MHz
Dimensions
6.1" x 9.3" x 3/7" (w x h x d)
Weight
1.0 lb
Wi-Fi Security
WEP, WPA, and WPA2
LEDs
5 signal strength LEDs, 1 network LED, 1 Wi-Fi LED indicator, 1 power LED
Compatibility
OS: Windows®, Mac® & Linux®
Browser
IE 6.0/newer, Firefox 2.0/newer
Misc
Antenna – Internal, Omnidirectional, 5dB average gain
Additional Feature
External Antenna Port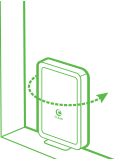 PRO-TIP
Rotating your CLEAR Hub?
Sometimes just rotating your CLEAR Hub will improve your signal strength.