Device Specs & Downloads
Pick your device from the list below to view device specifications, access user guides and download software updates.
For Intel Computers with WiMAX
Intel® provides software, drivers, and technical support information for Intel® wireless products. In order for your Intel® computer to properly operate in all CLEAR network locations, it is strongly recommended you upgrade your device software to version 1.5 or later. Failure to upgrade to version 1.5 may cause an interruption in your CLEAR service.
For the latest software and support information, or for questions and issues regarding the upgrade of your current system check here.
B2B Devices
Introducing CLEAR Enterprise Solutions wireless 4G Internet devices for machine-to-machine and business applications. Whether you need 24/7 Internet connections for distributed machines or wireless fail-over for main office or branch office wired Ethernet connections, CLEAR Enterprise Solutions has a certified wireless 4G device to fit your needs.
Clearwire Devices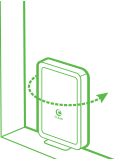 PRO-TIP
Rotating your CLEAR Hub?
Sometimes just rotating your CLEAR Hub will improve your signal strength.